The Pandemic and 'Women's Hell'* in Poland
If protest is made illegal, make daily life a protest.
By Zuzanna Krzatala – graduate of The New School for Social Research and TCDS alumna. Social activist focused on women's and minority rights. Currently based in Warsaw, working with a foundation supporting low-income seniors.
Warsaw, Poland, April 20th 2020
The outbreak of the coronavirus has stoked up isolationist sentiments everywhere, shutting down borders and imposing bans akin to those of a police state almost overnight. With the world coming to a standstill, Poland's increasingly autocratic government has taken advantage of the pandemic to restrict not just freedom of movement but the freedom to make decisions in matters unrelated to COVID 19. Though fear of the elusive virus has brought about fear and uncertainty for women everywhere, as many suddenly find themselves trapped in unwanted pregnancies, dependent upon the lawmakers who decide when to ease the restrictions and open the borders, the situation in Poland is exceptionally dire.
With access to abortion thrown into jeopardy, countries like France and England have looked for ways to safeguard women's rights during the pandemic. France extended access to medical abortions to nine weeks of pregnancy with medications prescribed by video consultation, and England allowed for home abortions up to ten weeks. Even Northern Ireland, after weeks of delays, has finally authorized free abortion services, putting an end to one of the world's most restrictive abortion laws.
However, in Poland the pandemic has presented itself as a perfect opportunity to further curb women's rights and push through dangerous legislation. In the midst of the chaos and anxiety surrounding the pandemic, when millions of people around the world are losing their livelihood and fear for their lives, the Polish parliament has decided it is of the utmost urgency to discuss a bill which outlaws abortions in the case of fetal abnormalities. Rather than fighting the virus, the politicians of the right have once again declared war on women, striving to remove a remaining remnant of choice that Polish women have.
Ironically, the struggle over reproductive rights in Poland began in the early stages of democratic transformation, and sharpened in 1993, when an "abortion compromise" was struck between the Catholic church and the Polish political class, and was then successively tightened by almost every democratically elected parliament. Today, the procedure is allowed in Poland only in the case of rape, incest, severe fetal abnormalities, or if the mother's life is at risk. Those strict limitations put the official number of legal abortions performed annually in Poland (population 38 million) at around 1,000. Despite the draconian laws — and the so-called "conscience clause" frequently evoked by doctors, which reduces access even to those abortions considered legal — Polish women continue to terminate unwanted pregnancies. The activists from Abortion Dream Team estimate the true number to be closer to 150 thousand. Women do it either by themselves behind closed doors, or abroad, free from the fear of breaking the law. However, their choice comes at a cost many can't afford. "Women who have money have abortions, and those who don't – have babies," says Mara Clarke, of the Abortion Support Network in the UK. Accessing safe abortion services is a matter of privilege, whereas it should be an unquestionable right.
Thanks to financial support from Clarke's organization and a network of pro-choice campaigners – the Abortion Dream Team and Kobiety w Sieci in Poland, Ciocia Basia in Berlin, Abortion Network Amsterdam, and the international Women Help Women — an initiative was launched last year offering Polish women advice and funding to seek safe abortions abroad. The project Abortion Without Borders defies national laws and celebrates transnational solidarity. Within days of launching, its activists received hundreds of calls, showing just how necessary the initiative was.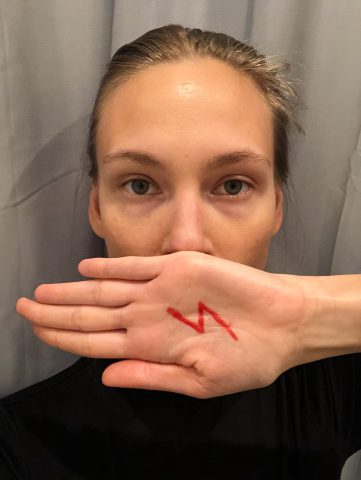 A project called "Stop Abortion" was first introduced to Parliament in the fall of 2017 through a citizens' initiative spearheaded by Kaja Godek, a prominent anti-abortion figure and mother of a child with Down's Syndrome. Named after Godek, the proposal aims to eliminate irreversible damage to the fetus as a legal ground for abortion even though it accounts for nearly all legal terminations conducted in Poland (98% of abortions in 2018).
A first reading of the Godek's legislative project, along with an alternative progressive "Save Women" proposal that sought to liberalize abortion law, took place over two years ago, in January 2018. Whereas the "Save Women" proposal was rejected outright, Godek's regressive project proposal was given a green light. It took massive nationwide protests in March 2018 for this anti-abortion project to be stalled in committee until the end of the parliamentary term.
After the 2019 parliamentary elections, in accordance with provisions on civic projects, the Godek project was moved to the next term and was due for mandatory review within six months. Some may argue that this is a mere formality and that the governing Law and Justice party is not necessarily in favor of passing the stringent bill, but would rather have it out of sight in a "parliamentary freezer." But on March 20th Poland announced the imposition of a "State of Epidemic", that is, a set of regulations that affect civic freedoms but are introduced by a state administration — the Ministry of Health — and not by the Parliament. The regulations give considerable arbitrary power to the state administration.And it is in these extraordinary times, when other European Union states are extending rights to accommodate women and provide them with a social safety net, that Polish parliament is "debating" the final erasure of any vestiges of the reproductive rights of women, disproportionately targeting those who already face economic and social deprivation.
Poles are known to take to the streets en masse whenever their freedoms and rights are endangered. Whether or not the abortion debate was indeed just an untimely formality, the state cynically exploited the nationwide lockdown, effectively banning all public demonstrations. Unable to take to the streets, women took to social media instead, with virtual protests held across all platforms. Selfies of women donning black face masks with an image of a red lightning bolt flooded the official Instagram feed of President Andrzej Duda, a faithful attendant to the ruling party who immediately signs any parliamentary decisions into law. Duda was tagged in images signed with the hashtag #WomensHell and #RejectGodekProject.
From posters and banners with a thunderbolt hangingfrom apartment windows, to black umbrellas sticking out from balconies (umbrellas are a symbol of the momentous "Black Protest" that took place one rainy October day in 2016 and brought down an earlier bill proposing a total abortion ban), women have made their resistance visible to the public. With traditional protest made impossible due to lockdown, daily life became a protest, turning ordinary activities into subversive acts. Standing in line for groceries, walking a dog, or riding a bike have become opportunities to display revolutionary signs. Some made "thunders" by banging pots and pans from balconies. Others honked their horns and waved flags with the thunderbolt from their car windows as they blocked off one of Warsaw's main roundabouts. A banner scream: WE WEAR FACE MASKS BUT THIS HAS NOT SILENCED OUR VOICES.
On April 14th and 15th, when a heated battle of words was taking place in the parliament with lofty opinions on what's moral and immoral, women who had had abortions, or knew someone who had, or may need one themselves someday, continued their resistance. With coronavirus disrupting international travel and delaying the shipment of precious cargos of mifepristone and misoprostol — otherwise unattainable in Poland — women have posted images on social media of their hands holding pills with the description "my life, my choice, my abortion in my hands," promoting self-managed medical abortions.
On April 17th, parliament had the choice to reject the regressive bill or fast-track it to a second reading. It voted to delay the final decision, sending the legislation for further work in committee, the so-called parliamentary freezer, where it could still resurface when another opportunity for distraction, like another global pandemic, arises. Faced with yet another abortion stalemate in this "Women's Hell", Polish women may have to take matters into their own hands.
* "Women's Hell" is the title of a superb essay from 1929 by Tadeusz Boy-Zelenski, liberal writer who was also a trained pediatrician and gynecologist. The essay scrutinized a Polish law that denied women access to contraception and abortion.