NYC – Tbilisi: Traveling through the Pandemic into Uncertainty
by Malkhaz Toria, current student of the graduate program in sociology at New School for Social Research (NSSR) and the coordinator of the Memory Studies Group at the New School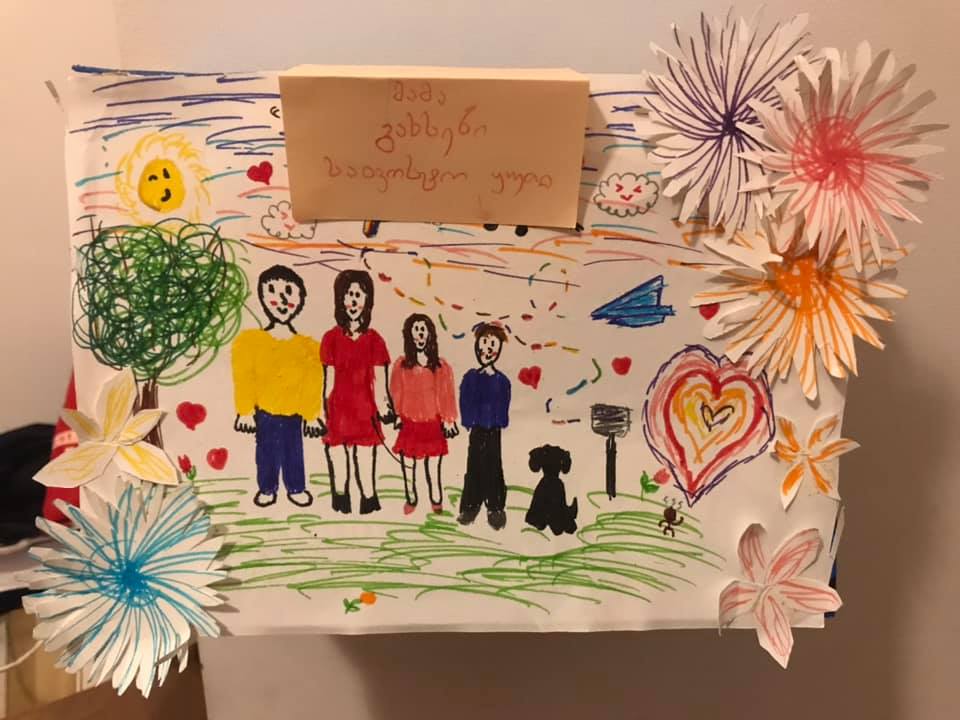 The pandemic came slowly but steadily. The last public event I attended at the New School hosted UN Secretary-General António Guterres on February 27, 2020. He was awarded an honorary doctorate before delivering a speech on "Women and Power". He also warned the audience that the world was about to face the global COVID-19 pandemic.
After the event, though still not fully convinced about the possibility of a coronavirus outbreak — and so just in case — I dropped by a couple of pharmacies in Greenwich Village to get some possibly useful things like masks, gloves, and hand sanitizer. The cashiers suggested that if I came back in the morning I "might be able to find some of these things". That was the first time I got a taste of all-encompassing feelings of imminent disaster and dramatic changes.
From then on we began to receive updates from the president and provost of the New School related to the spread of the novel coronavirus. In the meantime, the mid-March Spring break was approaching and we began to hear about a possible move to remote teaching for the remaining part of the semester. First, the administration announced that the week following the break would be a study week, a "post-spring break alternative teaching and learning week". At that point it was not clear yet whether face-to-face classes would resume or not, and so I began to wonder whether perhaps I should go back to Georgia. These were troubling times, and it made sense for me to be at home with my family and fulfill the class requirements online. As soon as I began to discuss with my professors the possibility of going to Georgia and joining the classes via Zoom, things began to change rapidly. On March 16th students were notified that the remainder of the semester would indeed be conducted online.
My worries about keeping up with classes from home were transformed into an almost existential anxiety about both the risks of air travel and the pressure to get home as soon as I could get a ticket.
On March 18, 2020, I began searching for airplane tickets online. Just a couple of options for the last flights were still available. Initially I had wanted to leave for Georgia on March 21st because I thought three days would be enough to pack without a rush.
I found a good option through NYC – Doha – Tbilisi. But I was unable to conclude the payment because the web service was overloaded. It seemed the high demand for tickets had caused spikes in site traffic. I then called the Consulate General of Georgia in New York, where someone advised me to leave NYC as soon as possible because in two or three days all flights would be canceled. They put me through to a travel agency and after a while I was lucky to purchase a ticket on a flight scheduled for the next day. I thus had only several hours to pack and get to JFK.  But in the process of hastily throwing things into my bags, I also managed to have a glass of Georgian wine with my Ukrainian roommates in Brooklyn, to say goodbye before my departure. 
The next day, on March 19th, together with another Georgian student, I was sitting in a half-empty plane flying to Doha from where we would transfer to another flight to Tbilisi. It was not like any other trips home full of happy expectations of embracing my family. I was not returning home after completing a post-doc program, or because I had a semester break and could comfortably fly on Christmas Eve. This time I was forced to leave NYC and The New School – famous for its "University in Exile" history — in the middle of the semester.
I had already experienced the drama of forced displacement when in 1993 my family had to leave our home in the Abkhazia region of Georgia at the end of the armed Georgian-Abkhaz conflict. But strangely, this time, I was going simultaneously through mixed feelings of joy and distress. I was not being forced to abandon my home, but was rushing back to reunite with my family – my wife and two kids — in Georgia. My impatient expectations of meeting them had a bittersweet taste amid the mounting pandemic.
It was a journey into uncertainty. Even though I was going home I did not know what to expect at the end of the trip: would I be put into some sort of quarantine facility or allowed to stay in self-isolation at our place? Mainly, I was troubled by the possibility of catching the virus while traveling, as that would mean a much longer delay of our family reunion.
Meanwhile in the plane, as if it were not already enough to be observing passengers and flight attendants in masks fully embracing the pandemic atmosphere. No idea why, but I exacerbated the creepy post-apocalyptic atmosphere by watching the whole season of Netflix's original South Korean series "Kingdom". The show depicts how in medieval Korea some sort of mysterious plague brought the dead back to life as blood-thirsty zombies.
At the end of the trip, I went through the thermal screening and other necessary procedures at the airport in Tbilisi. Fortunately, the results were satisfactory, and I got permission to spend the mandatory two weeks of self-isolation at home instead of in a state-run quarantine facility. At the same time, while I was proceeding through the preliminary infection checkpoint at the airport, my family was preparing for a trip to my wife's parental house in the Kakheti region, leaving the empty apartment to me, with luck for only two weeks.
As I approached home, through the window of the taxi I caught a glimpse of our car with my wife and kids inside heading out from our neighborhood. And that was it: I entered the apartment building, and my "legitimate" self-isolation had begun.
As I was entering our place a colorful hand-made mailbox greeted me, which my nine-year-old daughter Martha had made to hold some cute drawings and letters welcoming me home. She had included her four-year-old brother Luka in the project. One of their lovely drawings depicted the whole family, including our poodle Bibi.
Initially, we had refrained from informing the kids about the date of my arrival, as it would be difficult for them to understand why they could not greet me at home. So they just expected to see me in approximately two weeks, once my self-isolation was over. However, Martha became so agitated whenever she heard news about the pandemic in NYC that eventually my wife Maia had to reveal the truth and explain to the kids that I first had to stay at home alone for a while. And indeed, after my two-week quarantine, and with no sign of any COVID-19 infection, my family came home.
So here I am in Georgia, and out of the apartment, and finally able to observe how my country has been handling the coronavirus outbreak and how the old/new problems of internal political struggles, conflicts, and geopolitics are playing out under the conditions of a pandemic.
Initially, the Georgian government's measures to cope with the outbreak of COVID-19 received quite positive assessments from both the World Health Organization and local experts. Even some opposition parties recognized that the authorities had taken necessary preventive steps in a timely and adequate manner. In particular the country's top epidemiologists — three men and a woman, sometimes referred to as "the four musketeers" – are praised for coordinating the successful efforts of the country's health care system against the pandemic. Every day they update the public through their media briefings about new cases of infection, the number of recovered patients, and ongoing preventive actions.  They assure people that thanks to the government's proper undertakings (state of emergency, shutting down major cities to decrease mobility, nationwide lockdown, quarantine, and curfew), the country avoided a dramatic acceleration in the number of cases at the peak of the pandemic.  And so hospitals and healthcare professionals in the country have enough beds and medical equipment to treat all infected people.
Indeed, by the time of my arrival, Georgia seemed a safe island in the sea of the world's pandemic. That is why my friends and relatives congratulated me on having managed to get out of NYC, which would soon become the epicenter of the virus outbreak.
At this time though, criticism is mounting over the government's responses to the crisis caused by the pandemic. There are questions as to whether the relatively low number of confirmed cases of infections reveals flaws in the tracking of infected people because of the state's inability to do nationwide testing. (As of May 3, there were 589 confirmed cases of COVID-19, and 8 deaths.) And so the authorities try to sell their failure as an example of successful management. Opposition parties have also slammed the government for not having a real anti-crisis strategy to address the impact of the coronavirus on the economy. There are no plans to ease the financial burden for ordinary people or businesses by cutting taxes and/or subsidizing them, for instance.
The government is accused of leaning toward authoritarian methods of rule in approving on April 23, 2020 — quickly and without proper procedures — tough penalties for breaking emergency-law regulations. According to its opponents, these changes in the criminal code that impose up to six years in jail for a repeated violation of these regulations, do not conform to the basic human rights laws guaranteed by the country's constitution. There were even Facebook check-in protests scheduled that demanded "Stop the state of emergency. Say no to excessive power".
According to many, the imposition of the state of emergency and curfew does not help to halt the spread of the coronavirus because its special restrictions do not apply to all. This became evident when the Georgian Orthodox Church (GOC) allowed believers to attend Easter Vigil on Easter Eve, April 18. Even though the GOC had agreed to follow essential recommendations and called parishioners to maintain social distancing during the Easter celebration and remain within the churches' premises until the end of the nighttime curfew at 6 am, holding the service during a state of emergency was widely perceived as an open challenge to secularism and democracy in Georgia by a powerful and widely trusted religious institution.
Along with the internal political debates, the coronavirus outbreak became a new tool for Russian propaganda regarding the United States' interest in Georgia. These geopolitical tensions center on the theme of the US-funded bio lab, the Lugar Research Center in Tbilisi, which is the only laboratory in Georgia and the region where it is possible to test samples for COVID-19 and turn results around in under 24 hours. It is thanks to this modern biological lab that healthcare workers were able to locate cases in the initial phase of the pandemic. The lab has been a target of Russian fake news and propaganda since its opening in 2011, but the COVID19 outbreak has made it a central theme again for various disinformation agencies in their task of generating conspiracy theories. In this context, the major Russian TV outlets, along with some officials, have referred to the lab as a potential source of assorted viruses and bio-weapons.
Furthermore, other symptomatic news has come from the Russian-backed breakaway South Ossetia region of Georgia that exemplifies the essence of a parallel Russian Universe (Russkii Mir). It is hard to believe that the capital of this so-called "de-facto" state, Tskhinvali, has been given a second name — "Stalinir" — to honor the Soviet dictator Stalin and commemorate the 75th anniversary of the victory in WWII.
A similar erasing of Stalin's crimes has taken place in the occupied part of Eastern Ukraine, the self-proclaimed "Donetsk People's Republic". Beginning on May 9th, Victory Day, the city of Donetsk acquires a second name – Stalino.
And so yet again: the more things change, the more things stay the same! I now have the strange and indeed uncanny sense of participating in parallel spatial-temporal spheres, being both in Tbilisi and in New York City at ones — both with my family and, via Zoom, with my colleagues at the New School. It seems that the difference between what's real and what's virtual has lost its prior meaning and should be reduced to the difference between our physically accessible surroundings and the virtual — but no less real and accessible — dimension of our lives. In this sense, the "real" means our physical surroundings extended into a virtual realm. My "to do" list has not disappeared, but rather has re-appeared in a more condensed form. We are still meeting in our classes and having our regular one-on-one meetings thanks to Zoom. Nor have societal, political, or geopolitical problems disappeared from sight. In this situation of lockdown and quarantine, the perennial questions and familiar issues appear within a horizon that extends before us on little screens. Of course, this is not normal, and bearable only for the time being, as we are constantly asking ourselves the trivial but fundamental question of how long should, or will, we be living in this bizarre time?