ONLINE | Book Talk: Political Junkies – with Author Claire Potter
Wednesday, May 5, 2021, 11:00AM to 12:30PM (EDT)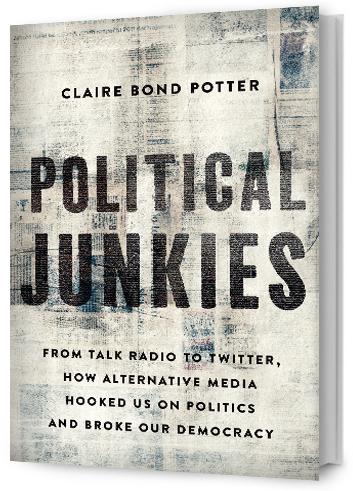 Author Claire Potter will talk about her new book, Political Junkies: From Talk Radio to Twitter, How Alternative Media Hooked Us on Politics and Broke Our Democracy, with guests: Helena Chmielewska-Szlajfer, David Greenberg, and Nicole Hemmer.
A wide-ranging history of seventy years of change in political media, and how it transformed — and fractured — American politics.
With fake news on Facebook, trolls on Twitter, and viral outrage everywhere, it's easy to believe that the internet changed politics entirely. In Political Junkies, historian Claire Bond Potter shows otherwise, revealing the roots of today's dysfunction by situating online politics in a longer history of alternative political media.
From independent newsletters in the 1950s to talk radio in the 1970s to cable television in the 1980s, pioneers on the left and right developed alternative media outlets that made politics more popular, and ultimately, more partisan. When campaign operatives took up e-mail, blogging, and social media, they only supercharged these trends. At a time when political engagement has never been greater and trust has never been lower, Political Junkies is essential reading for understanding how we got here.
Speakers
Claire Potter, Professor of History, New School for Social Research
Helena Chmielewska-Szlajfer, Assistant Professor, Kozminski University
David Greenberg, Professor of History and of Journalism & Media Studies, Rutgers University
Nicole Hemmer, Assistant professor in presidential studies at the Miller Center, University of Virginia
Moderator
Jeffrey C. Goldfarb, Michael E. Gellert Professor of Sociology, New School for Social Research
---
Registered attendees will receive the Zoom link via email.
Presented by the Democracy Seminar & the Transregional Center for Democratic Studies, at The New School for Social Research.