ONLINE | 2021 William Phillips Lecture: Scientomancy, or Divination by Science – by Olga Tokarczuk
Wednesday, July 7, 2021, 12:00PM to 1:00PM (EDT)
With remarks by Timothy Snyder, Richard C. Levin Professor of History at Yale University.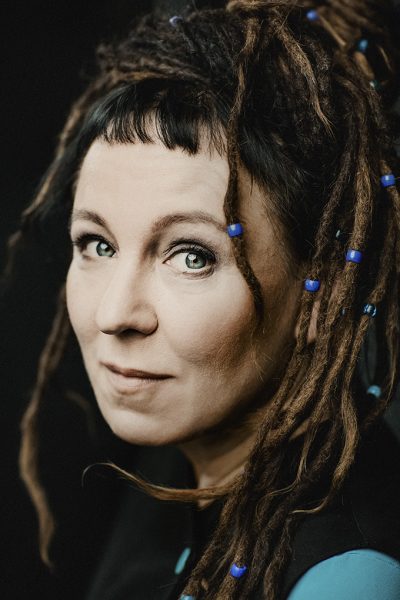 Olga Tokarczuk is the recipient of the 2018 Nobel Prize in Literature. Born in Poland in 1962, she studied psychology at Warsaw University. The author of eight novels and three short story collections, her work has been translated into more than forty-five languages. Her novels include Primeval (Prawiek i Inne Czasy), 1996; House of Day, House of Night (Dom Dzienny, Dom Nocny), 1998; Flights (Bieguni) 2007; Drive Your Plow Over the Bones of the Dead (Prowadz Swoj Plug Przez Kosci Umarlych), 2009.
Her magnum opus (912 pages), The Books of Jacob (Ksiegi Jakubowe) 2014, comes out in English this November, published by Fitzcarraldo Editions (in the UK) and in February 2022, published by Penguin Random House (in the United States). She has twice won the most prestigious Polish literary prize, the Nike Award, for Flights in 2008 and The Books of Jacob in 2015. Flights received the Man Booker International Prize in 2018.

Olga Tokarczuk lives in Wroclaw, Poland, where she is setting up a foundation that will offer scholarships for writers and translators and educational programs in literature.
                                                                              ***
Timothy Snyder is the Richard C. Levin Professor of History at Yale University and a permanent fellow at the Institute for Human Sciences in Vienna. He speaks five and reads ten European languages. His ten chief books are Nationalism, Marxism, and Modern Central Europe: A Biography of Kazimierz Kelles-Krauz (1998); The Reconstruction of Nations: Poland, Ukraine, Lithuania, Belarus, 1569-1999 (2003); Sketches from a Secret War: A Polish Artist's Mission to Liberate Soviet Ukraine (2005); The Red Prince: The Secret Lives of a Habsburg Archduke (2008); Bloodlands: Europe Between Hitler and Stalin (2010), Thinking the Twentieth Century (with Tony Judt, 2012); Black Earth: The Holocaust as History and Warning (2015); On Tyranny: Twenty Lessons from the Twentieth Century (2017); The Road to Unfreedom: Russia, Europe, America (2018); and Our Malady: Lessons in Liberty from a Hospital Diary (2020). He has also co-edited three further books: The Wall Around the West: State Borders and Immigration Controls in Europe and North America (2001); Stalin and Europe: Terror, War, Domination (2013); and The Balkans as Europe (2018). His essays are collected in Ukrainian History, Russian Politics, European Futures (2014), and The Politics of Life and Death (2015).
Snyder's work has appeared in forty languages and has received a number of prizes, including the Emerson Prize in the Humanities, the Literature Award of the American Academy of Arts and Letters, the Václav Havel Foundation prize, the Foundation for Polish Science prize in the social sciences, the Leipzig Award for European Understanding, the Dutch Auschwitz Committee award, and the Hannah Arendt Prize in Political Thought.  Snyder was a Marshall Scholar at Oxford, has received the Carnegie and Guggenheim fellowships, and holds state orders from Estonia, Lithuania, and Poland.  He has appeared in documentaries, on network television, and in major films.  His books have inspired poster campaigns and exhibitions, films, sculpture, a punk rock song, a rap song, a play, and an opera.  His words are quoted in political demonstrations around the world, most recently in Hong Kong.  He is researching a family history of nationalism and finishing a philosophical book about freedom.
                                                                              ***
The William Phillips Lecture was established in 2006 to further the legacy of William Phillips, co-founder of The Partisan Review, a journal committed to freedom of thought in literature, to creative expression, and to serious, open debate. Launched in 1934, The Partisan Review functioned as a vital literary bridge between the United States and Europe, as its authors included major progressive thinkers and writers from both sides of the Atlantic, such as Thomas Mann, Hannah Arendt, James Baldwin, George Orwell, Vladimir Nabokov, Samuel Beckett, Jean Paul Sartre, Czesław Miłosz, William Styron, Philip Roth, and Susan Sonntag. The annual lecture series was founded by the late Edith Kurzweil, an editor of The Partisan Review, a graduate of the New School for Social Research (Ph.D., Sociology), and William Phillips' wife.
This event is Free and Open to the Public. Registered attendees will receive the Zoom link via email.
Presented by the New School for Social Research.