Political Leaders in Europe Remember Ágnes Heller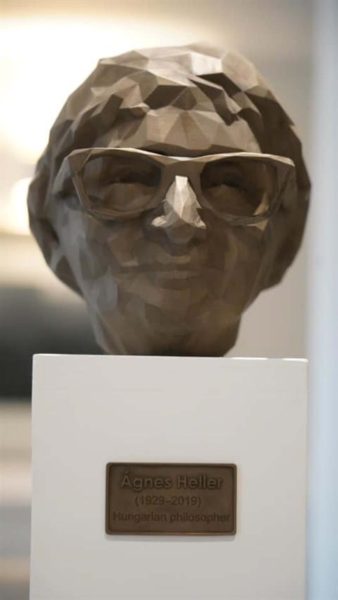 "The time," once again, is "out of joint," but the spirit of Ágnes Heller defies Hamlet's bitter prediction about how quickly people forget. "[A] man's memory may outlive him by six months. But he's got to build churches for that to happen, or else he'll have to put up with being forgotten…, like the hobby horse in the popular song" (Act III,2). While no builder of churches she, Ágnes has not been forgotten, and she died over two years ago. Nor will she be, proclaimed the heads of the European Parliament and the president of France. On December 9 and 13, David Sassoli, Klára Dobrev and Emmanuel Macron paid tribute to the memory of Europe's outspoken dissident philosopher, who, after turning her back on totalitarian edifices in 1956, went on to play an inspirational role in the democratic opposition, first in Hungary, then in exile. After 1989, when the walls of communism came tumbling down, Ágnes returned to Budapest to join the celebration and do her part in sweeping away the remaining rubble of a discredited state, so that a bright new future for her country could begin.
But by the time Ágnes died in July 2019, that bright future had faded across much of post-communist Europe, including Hungary, where Viktor Orbán had been prime minister since 2010, during which time he had turned a vital new democracy into an autocratic one-party state. And since 2019, things have only gotten worse, inspiring defenders of liberal democracies to look for strength in the memory of Europe's beloved dissident.
On December 9, members of Hungary's left-liberal Democratic Coalition (DK) presented the European Parliament with a portrait bust of Ágnes that will soon be on view in a prominent place open to visitors. President David Sassoli received the statue, together with Vice President Klára Dobrev, who said, "I can't think of a more fitting place for a bust of Ágnes Heller than the European Parliament, here in the heart of Europe." The bust is the work of Péter Szalay, who is also known for having erected a "rainbow colored" statue in Budapest's 9th District in honor of Black Lives Matter. That statue was vandalized almost immediately by right-wing activists (Ábrahám Vass, Hungary Today, 12/9/2021).
Then, on December 13, President Emmanuel Macron visited the grave of Ágnes in Budapest, making this the first stop on his state visit to meet with Viktor Orbán. As the incoming president of the European Parliament, Macron wanted to see if it were possible to open a constructive dialogue with the architect of Hungary's "illiberal democracy." As Macron fully understood, there was no love lost between Orbán's ruling Fidesz Party and Ágnes. Reporting on Macron's decision to do so, Reuters News Service wrote, "Despite the conciliatory tone of the leaders' public statements, Macron also sent Orbán a message by starting his trip by laying a wreath at the tomb of Ágnes Heller, a Hungarian philosopher who opposed Orbán…. The act was seen as a symbolic gesture" (Reuters, December 13, 2021).
After visiting the grave with members of Ágnes's family, President Macron tweeted:
Democracy, freedom, social justice, ethics, Europe: Ágnes Heller expressed her ideas forcefully. She was an inspiration for our Europe and she will remain so, for we will continue to fight. I was determined to pay my respects to her in Budapest, together with members of her family.
In May 2019, a week after Ágnes celebrated her 90th birthday, Emmanuel Macron invited her to have lunch with him at the Élysées Palace, together with several other intellectuals, to discuss Europe's upcoming parliamentary elections. She died two months later, while swimming in Lake Balaton, during her summer vacation. Given that meeting in Paris, which Ágnes described as meaningful, President Macron's trip this month to her grave was not only a symbolic gesture; it was deeply personal. When he said that he wanted to pay his respects to Ágnes in the company of her family, everyone understood that he really meant it. The few minutes they spent together, her son György Féhér said, brought tears to their eyes.
---
Judith Friedlander is former Dean of The New School for Social Research (NSSR and author of A Life in Dark Times: The New School for Social Research and Its University in Exile.