In Support of Osman Kavala – 2021 Recipient of the Courage in Public Scholarship Award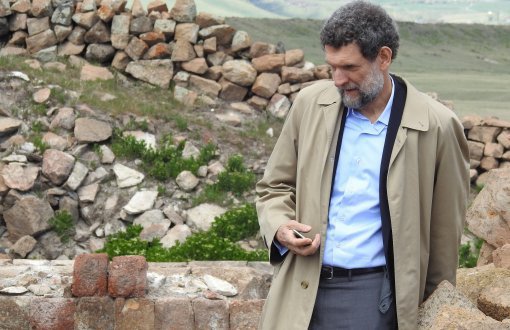 ---
Today, June 2nd, 2022, is the 1675th day in prison for Osman Kavala, Turkish publisher, philanthropist, and rights defender who, for his work on behalf of cultural dialogue, has been held in an Istanbul prison for over four years without a conviction, and who was sentenced to life in prison, in an "outrageous miscarriage of justice," on April 25th, 2022.
On December 10th, 2021, on International Human Rights Day, TCDS at the New School for Social Research awarded Osman Kavala the 2021 Courage in Public Scholarship Award, an annual tribute to exceptionally audacious thinkers, teachers, and doers (watch the video of the event here). We continue to be in solidarity with Kavala's cause and support his fight for justice!
---
We will continue to add here updates on the case and coverage from the TCDS community and beyond:
---
Read the English translation of Şirin Payzın's interview with Osman Kavala published in Halk Tv on 6 May 2022 here.
Osman Kavala: "When I heard the verdict I felt sick in my stomach"
Businessperson Osman Kavala who was sentenced to aggravated life imprisonment in the Gezi prosecution gave his first interview since the verdict to halktv.com.tr. When addressing the political implications of the trial, Kavala said 'there is a serious attempt to divert attention', adding that he believes that the Court of Cassation will overturn the verdict but that he doesn't think this would happen before the elections.
---
Seyla Benhabib, Eugene Meyer Professor of Political Science and Professor of Philosophy Emerita, Yale University, who spoke at our December 10th Courage in Public Scholarship Award Ceremony for Kavala, just published a new article in the Project Syndicate: "Turkey Is Exploiting the Fog of War."
By supporting Ukraine and presenting himself as a regional mediator and peacemaker, Turkish President Recep Tayyip Erdoğan has found the political cover he needs to crack down further on potential dissidents and opposition figures at home. The brazen persecution of philanthropist Osman Kavala is a case in point.
Seyla Benhabib in Project Syndicate, May 13, 2022
Read the full article here.
---
"Sentencing of Turkish activist raises free speech concerns" new PBS Newshour video. Watch it here.
A Turkish court last week sentenced activist and businessman Osman Kavala to life in prison for attempting to overthrow the government during 2013 protests. Kavala's sentencing is just another example of President Erdogan's crackdown on free speech. Temel Keren, a journalist and author of "How to Lose a Country: The 7 Steps From Democracy to Dictatorship," joins Geoff Bennett to discuss.
---